The Reference Group of the MobiDataLab Project consists of relevant mobility stakeholders (i.e. local/regional authorities, transport authorities, transport associations/clusters, transport operators and others). It is designed to help co-create, explore, experiment, and evaluate the Transport Cloud.
Presentation of the Reference Group Members
After launching an open call for participation in March 2021, applications were reviewed, and 13 organisations were selected to be part of the MobiDataLab Reference Group. The kick off of the reference group involvement in the project took place in April 2021. You can discover the RG members in the table below.
| | |
| --- | --- |
| Organisation Name | Organisation type |
| Benelux/NRW living lab for MaaS | International collaboration on MaaS |
| Cubic Transportation System | Transportation technology provider |
| City hall of Timisoara | Local authority |
| Municipality of Eindhoven | Local authority |
| Leuven | Local authority |
| Promálaga | Local authority |
| Municipality IX EUR of the city if Rome | Local authority |
| Rome Mobility Agency | Local authority |
| TIER Mobility | Micro-mobility operator |
| Mobility Agency for the State of Baden-Württemberg | Mobility agency |
| New-York State Department of transportation | Transport authority |
| e-Trikala SA | Municipal company |
| Hamburger Hochbahn AG | Public transportation company |
List of MobiDataLab RG members
At the kick off meeting, the MobiDataLab project was introduced, as well as the role of the RG group in the success of the project tasks. RG members presented themselves and their purpose in the project.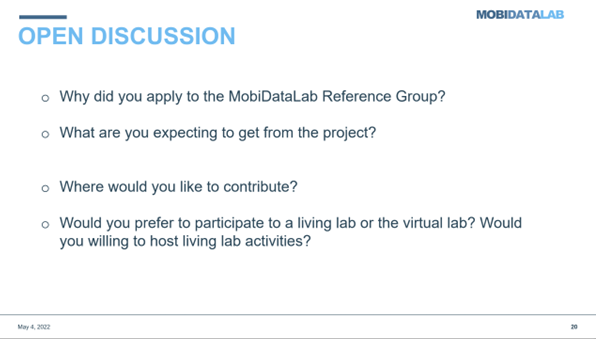 Involvement of RG members in MobiDataLab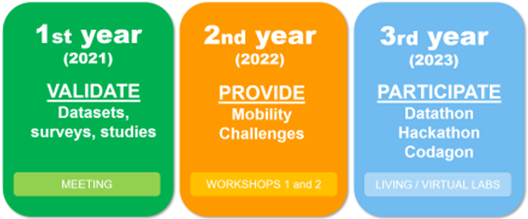 The RG was invited to an online validation workshop on November 16, 2021. Transport operators and authorities were reminded the objectives of the project and presented with first outcomes:
Analysis of key stakeholders for mobility data sharing
Assessment of needs and potential cooperations
Analysis of challenges related to data protection and privacy
Definition of first use cases
Collection of first data sets
The discussion brought specific benefits of the projects for RG members forward. It gave further inspiration, incentives and motivation to the project partners for the following tasks.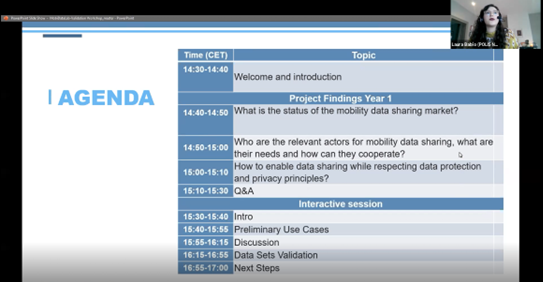 After this validation workshop, the members of the RG were invited to a technical workshop to engage with the project partners' activities.
On April 26, they attended a demonstration of the project's data catalogue. This catalogue is based on mobility data collected in several transport and local authorities, among which several members of the RG. The technical workshop was the occasion to discuss challenges to collect this data. RG members also underlined key data they would like to see exploited to improve urban transport services.
In addition to the data collected, services provided by partners of the consortium were also demonstrated. The Navitia platform and its journey planning capabilities were presented by our partner KISIO. Following this demonstration, a discussion with transport authorities highlighted challenges to develop this type of service. RG members also mentioned some other services to be developed with shared data.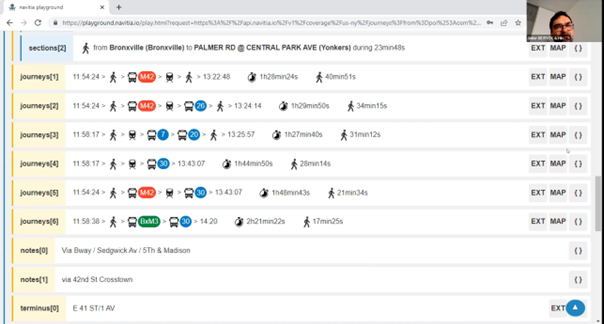 in the coming months, RG members will be asked to provide concrete mobility challenges related to the lack of data sharing. These challenges will be proposed to developer in three living lab instances in 2023: a datathon, a hackathon, and a codagon. The objective is to design adequate solutions to real problems.
Stay tuned to follow our cooperation with local authorities and transport managers and operators!