MobiDataLab is establishing a Reference Group that will consist of relevant mobility stakeholders (local/regional authority, transport authority, transport association/cluster). This group is designed to help co-create, explore, experiment, and evaluate the Transport Cloud.
Specifically, the MobiDataLab Reference Group will have to:
Provide challenges corresponding to concrete mobility problems (September 2022): These typical problems are related to parking, public transport, road traffic, new mobility, etc. (e.g. accessibility to large events (sport, concerts, other) or touristic areas, accessibility to critical infrastructures (hospitals), etc).
Participate to the Living Labs: These challenges will then be proposed to a community of innovators and data users, involved in dedicated hackathons/datathons. Reference Group members will participate in co-creation activities, providing challenges and answering participants' questions. These living labs will take place during the year 2023.
On the other hand, the Group members will:
Position themselves as a top smart-city engaging in innovation sessions and workshops aiming to share knowledge and build capacity amongst participants.
Be integrated into the MobiDataLab database to receive information on the Open Knowledge Base development.
Be invited to take part in dissemination events and activities organized by the project. This is a chance to network with other public and private stakeholders across the industry.
Receive direct information on the scalable transport cloud solution, as well as on the developed tools.
A Kick-Off meeting with first members happened on April 28th, 2021. The project was presented to these external stakeholders which will greatly contribute and benefit from the project. Then, the involvement process planned for the Reference Group was presented. A briefing with more detailed information will be circulated to current and coming members.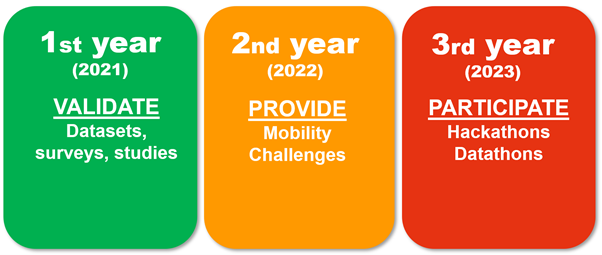 Still interested in joining the MobiDataLab Reference Group? Contact lbabio[at]polisnetwork.eu!